Experts in machine vision & automation
Machine Vision Systems

Collaborative Robots

I

ndustrial ID Systems
Visicon was founded by Peter Jelf, a Machine Vision & Control System Specialist to provide a technical resource for OEMs & end-users.
Peter has been working in automation since successfully
completing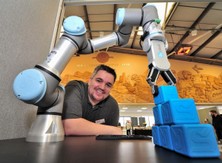 a
multi-skilled apprenticeship with Ford Motor Co. over 20 years ago. For a large portion of that time Peter has run his own business specialising in providing, supporting and giving training on machine vision and automation systems.
With a long and trusted history in automation, we have helped numerous companies to set-up and use vision systems for inspection, measurement and identification and to maximise the benefit of deploying collaborative robots in a variety of different industries. The varied nature of our customer base has given us the opportunity to offer our expertise across a huge range of solutions including; inspection systems, robotic systems, machine modifications & improvements, PLC & HMI programming, user training etc. All tailor made to the customer's specification to ensure they benefit from the best turnkey solution for their application.